Melbourne buyers rush Geelong city units
BY Larry Schlesinger
AFR Tuesday 27th September 2016
Melbourne buyers snapped up 40 per cent of the apartments sold in Geelong's biggest residential development, G1, over the weekend.
The $80 million project in Bellerine Street, next to the Geelong city centre, racked up 30 sales at its weekend launch, a "ballistic" result, according to the project's marketer, John Castran of Castran Projects.
G1 offers 110 apartments over six levels, with prices starting from $289,000 for a 53-square-metre one-bedroom unit with a car park and balcony.
Two-bedroom units start from $389,000 and three-bedders from $550,000.
According to CoreLogic, the median apartment price in Melbourne is $480,000.
"People priced out of Melbourne are looking at Geelong, which is 25 per cent cheaper than Melbourne on average yet the lifestyle and level of amenity is still extremely high," Mr Castran said. "This project offers affordable price brackets and has appealed to first-home buyers, downsizers and investors."
He said it fitted in nicely with the Victorian planning minister's desire to see more decentralisation of development outside Melbourne into regional markets like Geelong, Bendigo and Ballarat.
In August, Mr Castran told the Geelong Advertiser: "You can buy a modern two-bedroom apartment [in G1] with a view for the price you pay for a crappy one-bedroom in Melbourne."
G1 is being developed on the former St Mary's School site at 148 Bellerine Street and is part of a bigger development that includes affordable housing.
Originally the project was to include a mix of social and private housing.
The cube-shaped development, designed by architect Daryl Pelchen, includes ground-floor garden apartments with courtyards, and top-level apartments with their own rooftop terraces, offering views over Geelong.
The project is being steered by Brunei-born Danny Lau, a former architecture student at Deakin University, with Sinclair Brook the development managers. Nadia Bartel, wife of Geelong footballer Jimmy Bartel, has aded some celebrity glam to the project as an interior design consultant.
Apart from good schools, hospitals, a waterfront cafe culture and a relatively short commute to Melbourne, Geelong's economy has been strengthening after weathering the impact of some high-profile job losses from the closure of the Ford factory and the Target head office.
The Geelong unemployment rate fell to 5.4 per cent in June compared with 5.7 per cent recorded in June last year, according to the Bureau of Statistics.
---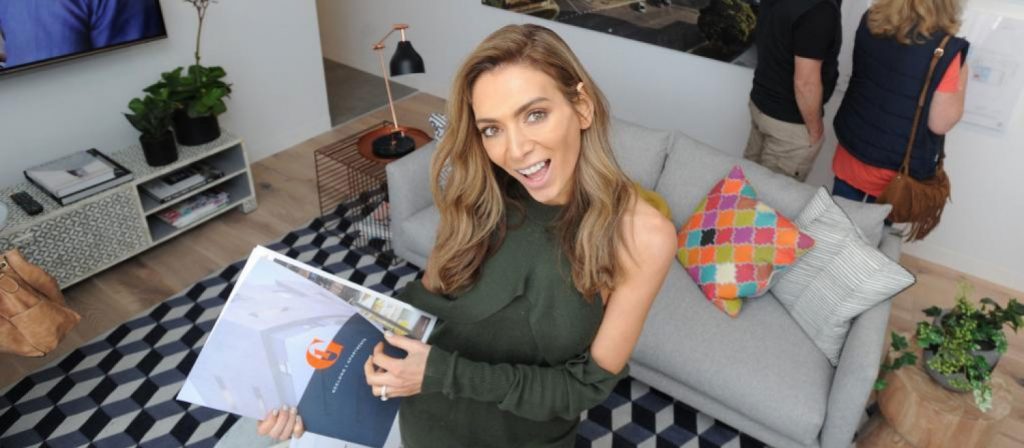 Apartments snapped up at former St Mary's school site housing development
BY Tessa Hayward
Geelong Advertiser September 26th 2016 11:40am
A record-breaking 30 apartments sold at the grand opening of the Geelong 1 Apartments on Saturday at the old St Mary's school site.
Castran Projects managing director John Castran said it was a record for the greatest number of apartments sold in Geelong in one day.
"It is because they are affordable, people aren't stupid," Mr Castran said.
he said the most popular apartments were the rooftop apartments in the $500,000-$750,000 price bracket, with all of them now sold.
"They really flew off the shelves," he said.
This is after more than 15 apartments sold before the grand opening.

An artist's impression of the luxury apartments
There are 110 apartments with the majority priced from $295,000 to 4795,000, with two exceptions that are up to $1.3 million.
Mr Castran said an equal balance of Melbourne and local buyers had been interested in the apartments.
Torquay's Susie Clark-Relph was looking at buying a two-bedroom, two-bathroom apartment.
"I am looking at buying an investment property and perhaps even live there myself one day," Ms Clark-Relph said.
She said she was attracted to the development because of its inner-city Geelong location and affordable prices.
Local fashion identity Nadia Bartel was also on hand to talk about her collaboration with Fenton and Fenton furniture packages for the apartments, worth $11,000."It is really nice and exciting to be involved. Fenton and Fenton have such unique furniture and the fit the apartments perfectly," she said.


The development was orginally going to be stage two of Common Equity Housing Ltd's (CEHAL) St Mary's Terrace project.That stage was set to include a mixture of private and social hosuing but instead was sold and replaced with this $50 million luxury residential development. CEHL now plans to build more social housing elsewhere in Geelong.Construction on the development at the corner of Bellerine and Little Myers streets is expected to start in the first quarter of next year and be completed towards the end of 2018.The apartments are located centrally in Geelong, on the site of the former St Mary's school.See more at http://www.geelongadvertiser.com.au
---

Buyers snapping up homes in Geelong 1 Apartment development
BY Tessa Hayward
Geelong Advertiser September 23rd, 2016 11:24am
MORE than 15 homes in the controversial former St Mary's school site development have already sold, before the project has officially launched.
The Geelong 1 Apartment development's grand opening is on Saturday.
Castran Projects director Lachlan Castran said interest in the apartments already indicated the project was filling a void or niche int he market on both price and product.
"Something like this hasn't really been offered before in Geelong… the level of inquiry is unprecedented, it is very strong," Mr Castran said.
With the majority of apartments priced from $295,000 to $795,000, with two exceptions that are up to $1.3 million, and a central Geelong location, the development is attracting a mix of buyers.

The development's grand opening is on Saturday
Mr Castran said local interest had been very strong from first-home buyers, to mum and dad investors, to down-sizers.
"The market… is more educated on what an apartment offers in Geelong," he said.
The development has 110 homes, with a variety of one, two and three-bedroom apartments, plus two four-bedroom penthouses.
Local identity Nadia Bartel is also involved in the project as a colour consultant in conjunction with Fenton and Fenton for furniture packages worth $11,000.

Mr Castran said the developer, Daryl Pelchen, also had a Geelong connection, after studying architecture at Deakin University.
Whitford, Newtown director Dale Whitford said the apartments were outstanding value. "It will be a bit of an iconic development in Geelong. It is taking it to another level," Mr Whitford said.
Construction on the development, located on the corner of Bellerine St and Little Myers St, is expected to start in the first quarter of 2017 and completed towards the end of 2018.
It was to be stage two of Common Equity Housing Ltd's St Mary's Terrace project, which was slated to include a mixture of social and private housing.
The change of use made headlines when it was revealed the social housing project would be replaced by a $50 million luxury residential development.
The Geelong 1 Apartments grand opening tomorrow is on site from 11am to 3pm.
See more at http://www.geelongadvertiser.com.au
---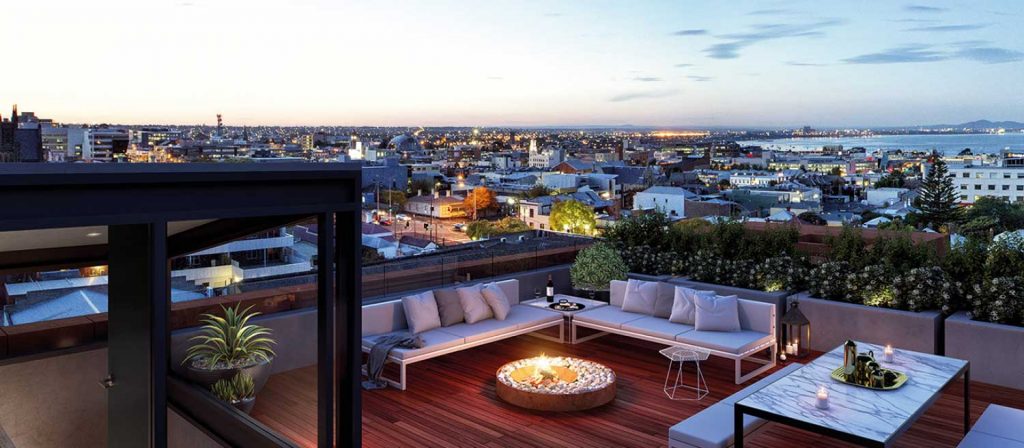 'Super Commuters' Targeted in Regional Cities Growth Plan
Aisha Dow, The Age
August 19 2016
When Geelong's largest apartment building hits the market next week it is thought up to 30 per cent of buyers will be future "super commuters" from Melbourne. The real estate agent did some exit polls at CBD display suites and found many Melburnians would entertain the idea of moving to the seaside centre and travelling to the city for work, if it meant better housing for their budget. Two-bedroom apartments at the Geelong 1 Apartments will sell off the plan from $389,000.
The project's real estate agent, John Castran from Castran Projects, said if you had the same amount of money in central Melbourne you could probably afford a unit on the lower levels of an apartment tower, with no views.

"But they don't want to be stuck in a Southbank. They want something with fresh air, looking out onto water," Mr Castran said.
In the coming years, the Victorian government has an ambitious plan to increase the population of the state's regional centres, including people commuting to Melbourne and working from home.
While Ballarat, Bendigo and Geelong have enjoyed an annual population growth of between 1.2 per cent and 1.7 per cent in recent years, Planning Minister Richard Wynne says he wants the growth rates of regional Victoria to match Melbourne's (around 2.2 per cent). Mr Wynne said the government would explore moving more state government offices out of Melbourne, while the Victorian Planning Authority (formally the Metropolitan Planning Authority) is working with regional councils to develop 40-year plans for their cities.
More than 100 new apartments will be built in Geelong
The authority's chief executive, Peter Seamer, said in the past some regional towns had grown in a sprawling, ad-hoc manner. "In a town of 15,000 people you shouldn't have to drive 20 minutes to go to the supermarket and what we are doing by the plan is making sure things are more localised and are put in the right place," Mr Seamer said.
Leading regional growth expert, Associate Professor Trevor Budge, said many regional cities "were pretty liveable places".
"Two positives that stand out in comparison with Melbourne are house prices, which are often half the price they are in Melbourne, and then of course the lack of traffic congestion," he said.
"People in regional centres are probably gaining an extra 10 hours a week just on the commuting time they are saving themselves. They're less stressed because they are not spending a lot of time frustrated in traffic."

Professor Budge, who is strategy manager with Greater Bendigo council, said commuting to Melbourne from regional centres had been made easier by recent investment in roads and rail. But in Bendigo he said there had also been a rise in "reserve commuting" for study and work, with the Bendigo Bank headquarters located in Bendigo. "We're actually seeing 10 per cent more people arriving at Bendigo Railway Station every day than are leaving," Professor Budge said.
In the next year 35 years it is forecast Victoria's population will almost double to 10 million, with 2.1 million expected in the regions.
See more at: http://www.theage.com.au
---
ILLOWA, Malvern East
BY Liz McLachlan, The Weekly Review
June 5.2014 10:21 am

Address |  12-16 Illowa Street, Malvern East
Developer |  Tom Frawley
Project manager |  Sinclair Brook
Building, interior and landscape design |  Daryl Pelchen Architects
Sales |  Michael Robinson 0401 071 071
Display suite |  13 Illowa Street, Malvern East
Open | Saturday and Sunday 11am-1pm, Thursday 5-7pm or by appointment
» www.illowamalverneast.com.au
Combining modern architecture with a privileged location, a newly released Malvern East development is tucked away in a quiet, tree-lined street just moments from Darling Station.
Illowa, at 12-16 Illowa Street, is a low-rise development of 52 one and two-bedroom apartments in garden surrounds with prices starting from $365,000.
Designed by Daryl Pelchen Architects, Illowa comprises two four-level buildings presenting mirror images to the street, divided by internal gardens designed to create an urban oasis in between. The contemporary design incorporates stone, steel, timbers, basalt and glazing into façades with metal louvred screening and deep balconies. Some apartments have landscaped courtyards of up to 47 square metres.
Sales and marketing agents Look Property Group say local interest in Illowa has been strong, with half sold in late May within a week of release.
Look Property Group director Michael Robinson says locals are recognising it as an opportunity to get into a project in Malvern East, where quality apartment projects have been in short supply. Buyers to date are a mix of investors, first-home buyers and downsizers.
"We have a lot of local buyers coming in," he says. "We're seeing a trend in parents with adult children who want to see them living locally. Mum and dad are often giving the kids a 10 per cent deposit to get them started, and they can use the first-home buyer's grant."
Open design is a key feature within the apartments, with relaxed, open-plan living flowing into private outdoor spaces and sliding doors that offer spatial versatility by opening up spaces in one-bedroom apartments. Bedrooms can become dual entry, bathrooms turn into en suites and a media unit doubles as a dividing wall.
Buyers have a choice of 15 floor plans and north, east and west aspects for the apartments. The internal floor areas range from 44 square metres to 53 square metres for one-bedroom apartments and 61 square metres to 70 square metres for two-bedroom apartments. Balconies are about nine square metres, with private courtyards ranging from 31 to 47 square metres.
Interior detailing includes engineered oak floorboards in living areas, with wool-blend plush carpets in bedrooms and porcelain tiling in bathrooms. There's a choice of light and dark interior palettes in contemporary neutrals for Caesarstone benchtops and timber-veneer joinery throughout.
The kitchens have Smeg stainless-steel gas cooktops, underbench ovens, rangehoods and dishwashers, with an integrated refrigerator available as an upgrade. There's deep, soft-close storage, a full-height pantry and optional mobile island bench.
The full-height, textured-porcelain-tiled bathrooms have deep-set walk-in showers screened by frameless glass and wall-concealed storage, white wall-mount basin and toilets, and a full-height mirror above the vanity. All bedrooms have built-in wardrobes with mirrored doors.
Each apartment has parking in the secure basement, with allocated storage and bicycle space. Security at Illowa also includes security intercom entry and lift access to each building.
Laminated glazing provides temperature control and architect-designed metal louvres enhance privacy while providing natural ventilation, with support from reverse-cycle air-conditioning in living areas. Gas-boosted solar hot water, rainwater harvesting and energy-efficient fixtures also contribute to the building's six-star energy rating.
Location
Firmly ensconced in blue-chip Malvern East, Illowa is 12 kilometres south-east of Melbourne's CBD.
Illowa residents will have a 150-metre dash for the train at Darling station, with a 21-minute commute to Flinders Street. The Monash Freeway is close by, with a four-minute drive to the city-bound freeway ramp at High Street. The Gardiners Creek cycle trail and reserve is a two-minute bike ride away and nearby parklands also include Central Park and Hedgeley Dene Gardens – highly popular with locals.
Illowa also shares a postcode with retail and entertainment colossus Chadstone. Residents will be a six-minute drive from its international brands, food shops, cinemas, health spas and large conglomeration of department stores, supermarkets and local retailers.
Local schools include Sacré Cœur, Korowa, Lauriston and De La Salle and St Kevin's colleges. Monash University's Caulfield campus is three kilometres away.
PRICING GUIDE
One-bedroom from $365,000
Two-bedroom from $495,000
STANDARD FEATURES
Choice of light and dark interior schemes
Engineered oak flooring; plush wool-blend carpet
Porcelain tiling in wet areas
Caesarstone benchtops and smoky mirrored glass splashbacks
Timber-veneer kitchen joinery
Smeg stainless-steel gas cooktops, underbench oven, integrated dishwasher
Mobile island bench in some apartments
Full-height tiled bathroom, walk-in shower with frameless glass screen
Built-in mirrored wardrobes
European laundry
Ground-level courtyard or balcony
ECO GREEN RATING
Six-star energy rating
Laminated performance glazing
Rainwater harvesting
Solar, gas-boosted hot water
Bicycle storage
FACILITIES
Secure basement parking and storage
Two lifts with security access
Video intercom
See more at: http://www.theweeklyreview.com.au
---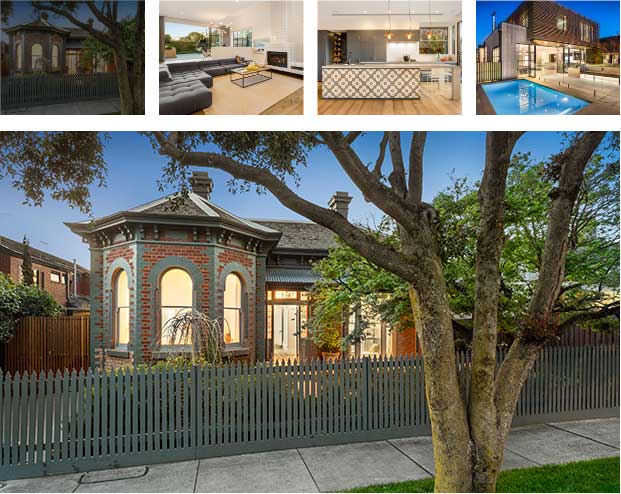 BUILT TO IMPRESS
BY Kate Farrelly, AFR
September 29, 2016 at 1:00 PM

Armadale, Melbourne, >$5 million
You would expect something special from Gallagher Jeffs' Tim D'Antoine, project lead on the build of Tasmania's MONA art gallery, and his wife, Camilla, owner of homeware brand Mozi, and their bold residence doesn't disappoint. Camilla worked with Daryl Pelchen Architects to create a home packed with unique design features such as bespoke Christopher Boots-designed lighting, an island bench decorated with antique Spanish tiles and an Agape bath designed by Patricia Urquiola. The five-bedroom property combines an Italianate Victorian facade with a contemporary timber-clad rear extension. It's listed for an October 22 auction with Darren Lewenberg of Kay & Burton Bayside.
See more at: http://www.afr.com
---
Personal space: deluxe Melbourne homes that stand out from the rest
BY Amelia Barnes, www.domain.com.au
Oct 7, 2016

Cover property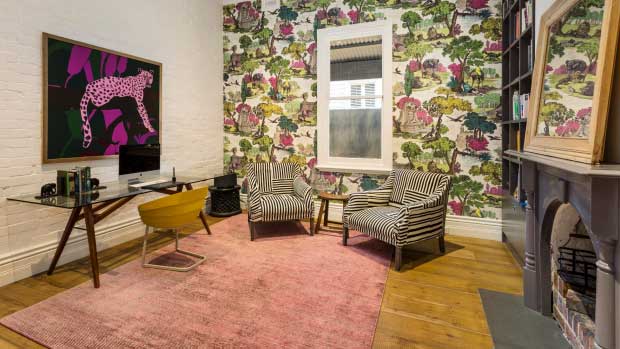 31 Seymour Avenue, Armadale
$5 million-plus
Auction at noon, on October 22
Kay & Burton, Darren Lewenberg 0412 555 556
Behind this property's classic facade is a collection of designer features, from solid copper doors to privately commissioned light fittings, imported antique tiles, and even reclaimed windows from Sydney University.
In keeping with the property's High Street precinct address, the home has been fitted with fashionable extras such as a dressing room and mainen suite complete with a statement Agape bath designed by Patricia Urquiola.
Renovations developed in collaboration between architect Daryl Pelchan and the property's designer owner add to the modern amenity of the now five-bedroom home.
The soaring ceilings and traditional arched hallway of the original ground floor structure leads into a new open plan domain and outdoor living area with a lawn, courtyard and self cleaning pool.
On the new upstairs level are three double bedrooms coupled with teen rumpus, while the basement level features a home theatre opening onto its own courtyard along with a 400-bottle wine cellar and double garage.
See more at: www.domain.com.au
---
High-end design in a premium Armadale precinct
BY Leeyong Soo, www.theweeklyreview.com.au
October 10.2016 11:29 am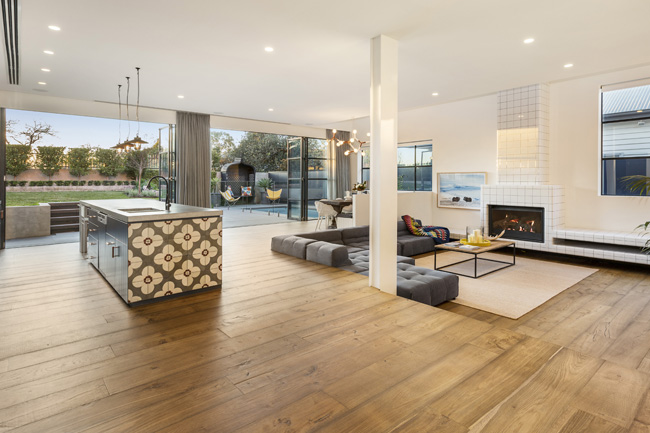 As home renovations go, this one is a beauty. Given the names behind it – Camilla d'Antoine, the founder of design brand Mozi and her husband Tim, the lead builder at Hobart's Mona – it was always going to be special.
From the ocean breeze-coloured front door to the pale pink of the hall and the clever use of recycled materials, it is a breath of fresh air.
The couple commissioned architect Daryl Pelchen to take a neat but dated double-fronted Hawthorn brick house and turn it into a dream home with all the bells and whistles.
FAST FACTS: 31 SEYMOUR AVENUE, ARMADALE 3143
Kay & Burton: 9820 1111
Price: $5 million +
Auction: October 22 at noon
Victorian house renovated and extended by architect Daryl Pelchen
Victorian features of marble mantelpieces, arched hall, high ceilings; wide oak floorboards throughout
high-end designer fittings
luxurious en suite with bath, walk-in wardrobe
open-plan living area with sunken lounge and French-tiled fireplace
Liebherr fridge/freezer; honed concrete kitchen benches with antique Spanish tiles; walk-in pantry
retreat; rumpus room/home theatre
cellar/tasting room
large laundry with drying room
north-west-facing garden and swimming pool
hydronic heating, ducted and reverse-cycle air-conditioning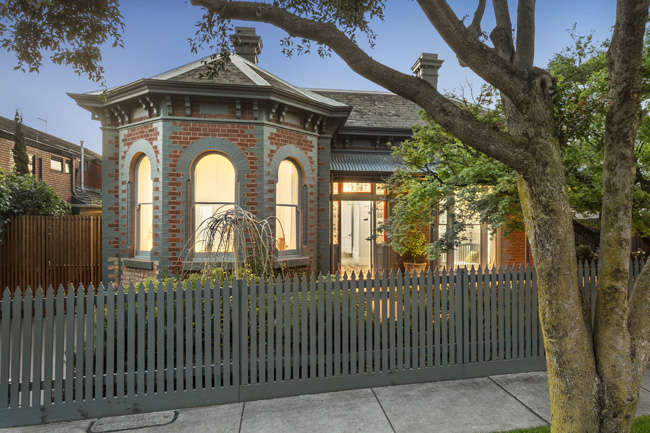 31 Seymour Avenue, ARMADALE, 3143. Photo: SUPPLIED
Along the way they respected its past, keeping Victorian features such as marble mantelpieces and the hallway arch.
But in an engineering feat, they added a whole new section on the ground floor, a first floor and excavated to create a lower-ground-floor level.
The house has the typical Victorian floor plan of four rooms off a central hall. The main bedroom at the front and its en suite are a showcase of high-end design such as Designers Guild ombre linen curtains and thick pile carpet in the bedroom.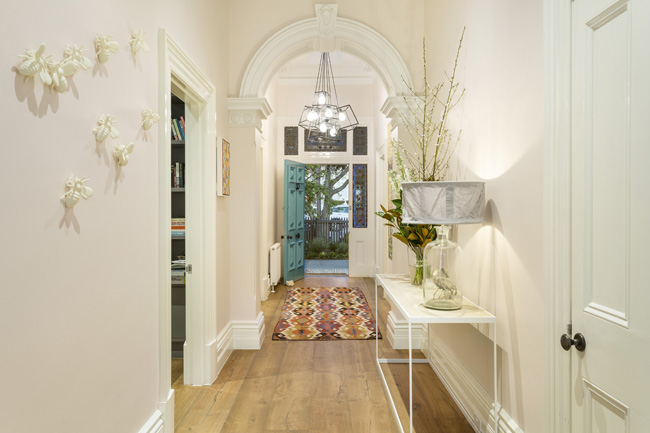 31 Seymour Avenue, ARMADALE, 3143. PHOTO: Supplied
The en suite gets a modern-day reworking with black-and-white floor tiles, fully tiled white walls, a timber vanity and bespoke back-lit mirror.
But the outstanding feature is the steel oval freestanding black bath by Spanish architect and designer Patricia Urquiola.
"We wanted classic black and white, but with a tranquil feel," Camilla says.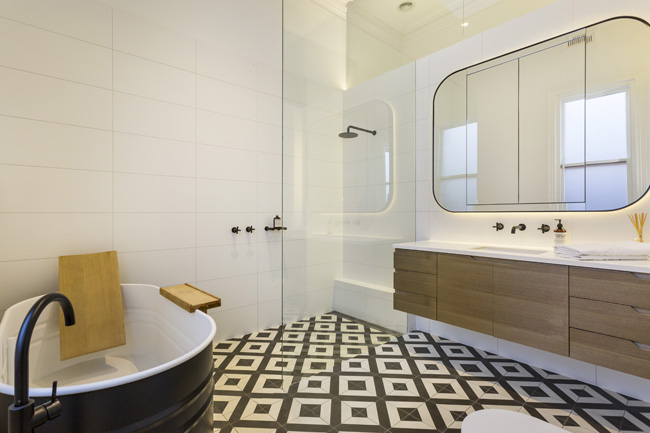 31 Seymour Avenue, ARMADALE, 3143. PHOTO: SUPPLIED
Still in the old part of the house, the study has a wall of Cole & Son Versailles toile wallpaper juxtaposed against a rendered brick wall.
A dark grey-painted mantelpiece is flanked by dark grey bookshelves to ceiling height.
Wide oak floorboards unite the house from front to back, but a row of old bricks marks the transition from old to the new look of rustic/modern.
"There is so much to love about this house," Camilla says.
"I love this room because of the volume, the light and the points of interest. It's business at the front of the house and party at the back."
The open-plan kitchen and living domain includes a sunken lounge with a French tiling system surrounding the open fireplace.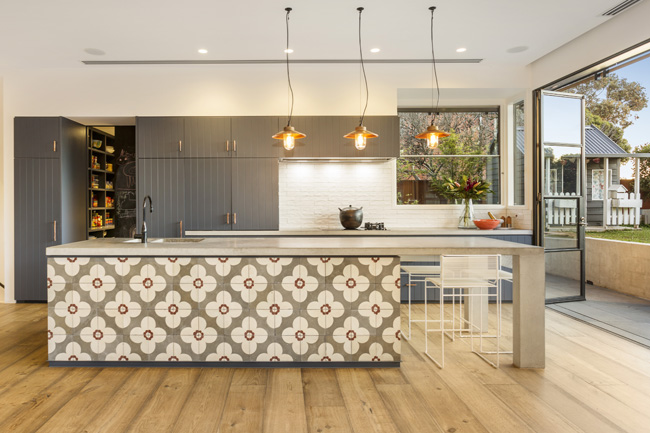 31 Seymour Avenue, Armadale. Photo: supplied
Beside the lounge, the dining area with banquette seating is lit by a linear skylight with a Christopher Boots light fitting above the table.
A honed concrete island bench with 200-year-old reclaimed Spanish tiles is the standout in the kitchen.
On the other side of the bench, there is a Wolf oven, white-tiled splashback and integrated Lieberr fridge and freezer.
The walk-in pantry is behind grey timber-panelled cabinetry.
Metal-framed glass doors open the living area and kitchen to the back garden, the outdoor entertainment area and swimming pool.
Camilla has combined her love of history with contemporary fittings and fixtures.
For example, two windows on the walls beside the curved staircase leading to the first floor were sourced from a Sydney salvage yard, but originally came from the University of Sydney.
The first floor has a retreat at the top of the stairs. Three bedrooms on this level are all the same size, with built-in wardrobes.
The family bathroom nearby features Japanese wall tiles.
Taking the stairs to the lower ground level, there is more history on display.
The flooring of the theatre or rumpus room is in bricks from the site, laid in a herringbone pattern.
The yellow barn door is a little bit of country in the city and the concrete ceiling is testament to the scale of the engineering.
Glazed doors with metal frames open the rumpus room to a courtyard garden at the building's side.
There is another bathroom on this level, a cellar and a large laundry where two recycled porcelain sinks – complete with chips – from the science department of Sydney University are laundry troughs.
With the wealth of detail at this house, the extras, spacious accommodation and high-end design, living in Armadale doesn't get much better.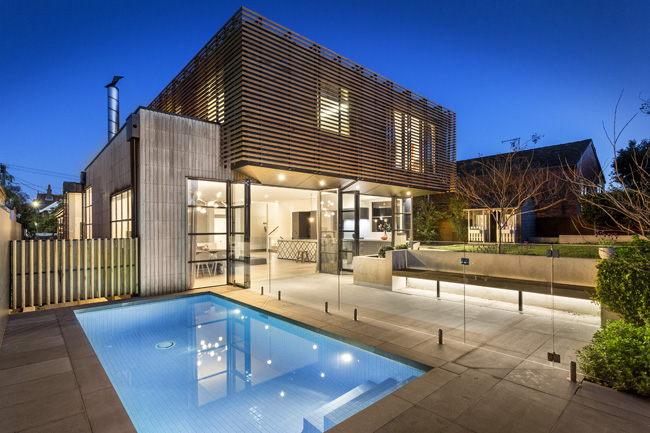 See more at: www.theweeklyreview.com.au